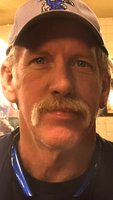 Rick Miller
Rick Miller, 60, went home to be with the Lord February 2, 2019.
A Celebration of his life will be held 7:00PM Thursday February 7, 2019 at Heavenview United Pentecostal Church with Pastor Harold Linder officiating. The family will visit with friends immediately following the service at the church on Thursday.
A second Celebration of his life will be held in Saturday February 9, 2019 with a 10:00AM Gravesice Service in The Lexington Cemetery and an 11:00AM Celebration of his Life at Northeast Christian Church. Family and friends are invited to either, or both services.
A native of Kentucky, Rick was the son of the late Ann and Harry Miller of Lexington. He graduated from Henry Clay High School Class of '77. A prolific drummer, Rick was one of the original founding members of the "Bandit Band". He also spent time in Nashville as a studio drummer.
Rick would transition into an OTR truck driver in the entertainment industry, driving for names from ZZ Top to Snoop Dogg to Bette Midler.
He loved the Lord and his family. He had created a Facebook ministry, "A Gather Round", where he shared insight and words from the Lord. Known as "Uncle Ricky" he was loved by and will be missed by many.
Survivors include his sisters, Cindy Adams and Dave of Ocala, Florida, and Janet Thompson of Orlando, Florida; brother, Michael Miller and Lynn of Kernersville; nieces, Carrie Thompson, Casey Thompson, and Ashley Kelley and Nathanael; nephews, Kyle Thompson, Ian Miller, and Garrett Miller; and numerous extended family and friends.
In lieu of flowers, memorial contributions may be made to the Bethesda Center for the Homeless at www.bethesdacenter.org
Friends and family may sign, and view the guestbook at www.Pierce-JeffersonFuneralService.com