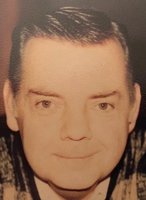 Edward Kenneth Duffy
Edward Kenneth Duffy, husband of the late Karen Lee Duffy, passed away peacefully Friday July 26, 2019 at the age of 79 in the care of Hospice.
Born June 16, 1940, in the Bronx in New York City, he was the second of eight children born to John and Mary Duffy. At the age of 16, he joined the National Guard. Then after fulfilling a promise to his father to work on Wall Street, he joined the U.S. Army at the age of 18.
He quickly made his way through the ranks and challenged himself to be proficient in every task that he was assigned. He started his military career driving tanks, but would eventually be trained to be a computer repair technician. He was trained by IBM in the dawn of computer technology and was one of a select few that was allowed access and training on all of their systems. He became such an expert that he was eventually selected to be an instructor.
The Army would take him all over the world. He particularly enjoyed his time in Germany. When he was a young, single soldier, he and a group of his friends worked in a German vineyard in their off hours. For a day of work, the owners of the vineyard would reward them with German home cooking and as much wine as they could drink. Those evenings were spent under the stars, eating, drinking wine, and talking trash.
He would be called on, twice, to take his knowledge and skills to Vietnam where he would be flown all over the country to repair computer systems. He flew into areas so dangerous that the planes did not dare land; they would touch down, he would have to jump from the plane, roll to the ground, and run to safety. This was just a day in the life of Ed Duffy. He had many stories like these, always interesting, often amazing, and sometimes terrifying, but no matter his circumstance he never complained. He always found the light of humor in the darkest places.
Among the many medals, decorations, badges, citations and ribbons he earned the following:
National Defense Service Medal

Meritorious Service Medal

Vietnam Service Medal

Vietnam Campaign Service Medal

Vietnam Cross of Gallantry

Bronze Star Medal with Oak Leaf Cluster.
After 27 years of military service, he retired as a Chief Warrant Officer III. Upon retirement, he went to work in the civilian world where he met the woman that would eventually become his best friend, soulmate and confidant. Ed and Karen Duffy married on February 19, 1988 and shared a radiant, enduring, respectful love. They spent the following 28 years enjoying the life they had found and built together, whether it be white-water rafting in Colorado, bouncing across the volcano-created terrain in Hawaii in a rented minivan, or frolicking around on a nude beach in Virginia; they were always looking for the next adventure.
At the end of Karen's life, Ed became her loving and loyal caretaker. He was her rock and was the only person with whom she shared her true fear and pain. He stood steadfastly as her friend, lover and protector until her death on December 23, 2016.
While he was proud of his military service, he was most proud of his roles as husband, father, grandfather, brother, and uncle; he was the ultimate family man. While he left home at a very young age, he managed to maintain strong bonds with each member of the family. For many of us he was the voice of reason, the safe place to land, the comic relief in almost every situation, and sometimes surprisingly mischievous. He settled many family fights and started a few family food fights; he created a lifetime of amazing memories.
He is preceded in death by his wife, Karen Duffy; his brothers, Raymond Duffy, and Thomas Duffy; and his sisters, Constance (Mimi) Jensen, and Veronica Marshall.
He is survived by his three children, Kenneth Duffy, John Duffy, and Stormie Duffy Wiggs; four grandchildren, Canon Duffy, Grace Wiggs, Ashley Duffy, and Shelby Duffy; siblings, Frank Duffy, Debby Love, and Barbara Duffy; and many loving and beloved nieces, nephews, and other family.
Ed and Karen Duffy are now reunited and, hopefully, watching as we celebrate a life so brilliantly lived. Their ashes will be combined and placed in a companion urn. They will be buried together at the Salisbury National Cemetery; where they will both receive the military honors they earned. These were his last wishes and we look forward to seeing them settled in their final resting place together.
A civilian funeral service will be held 5:00PM Sunday August 11, 2019 at Pierce-Jefferson Funeral Service Chapel, Kernersville, NC. A family dinner will follow.
On Monday, August 12, 2019, an Honors Hearse will transport their remains to the Salisbury National Cemetery, Salisbury, NC. The military funeral service will be held at 9:00AM.
We welcome you to join us in saying farewell to, Ed Duffy. If you cannot be with us in person, we know you will be there in spirit. Love and best wishes to all reading this.
Friends and family may view, and sign the guestbook at www.Pierce-JeffersonFuneralService.com