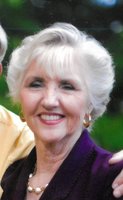 Carolyn Ruth Jewell
Carolyn Lindsay Jewell, 79, of Greensboro died at Pennybyrn at Maryfield, on April 24, 2020, after a long battle with cancer; she is now home with her Lord and Savior.
Carolyn was born in Leaksville, North Carolina, which is now known as Eden, in August of 1940 to parents, Reverend & Mrs. T.T Lindsay.
She graduated from Durham High School. Carolyn went on to attend Emmanuel College in Franklin Springs, Georgia where she was a member of the Women's Trio.
She moved to Greensboro in 1959 and worked for Gate City Savings and Loan Assoc., which later was known as Gate City Federal Savings and Loan; then merged, with BB&T. She rose to office of Vice President of BB&T in Hickory, North Carolina, where she lived and worked for ten years before retiring in 2001.
Carolyn was a born a producer. She knew how to encourage others to be leaders. She loved fishing from piers on beach trips. Carolyn was a champion racquet ball player and a fantastic computer game player. Mel and Carolyn had 11 years together; read the Bible through 14 times, and was a life-long Pentecostal Holiness Church member.
Carolyn is survived by her husband, Mel Jewell; sons, Billy Freeman (Cheryle) and Brett Freeman (Lisa) of High Point; three grandchildren, Caitlin, William, and Chelsea Freeman; step-son, Kip Jewell (Kelly); step-grandchildren, Mary, Nathan, Savannah, and Lyra Jewell; and step-daughter, Melody Jewell Hicks. She is preceded in death by her brother, Tommy Lindsay (June), sister, Jean Bowman and her husband, Jack Bowman, three nieces; Donna Burgess, Denise Bowman, and Debra Richardson.
Due to current health and safety regulations, the memorial service will be held at a later date.
In lieu of flowers, consider a donation to the American Red Cross of Greensboro, NC: https://www.redcross.org/donate/blood-services-donation.html/ or by mail to:
American Red Cross: PO Box 37839, Boone, IA 50037-0839
The family would like to express their sincere appreciation for the special care they gave to Carolyn.