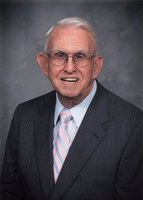 James Samuel "Jim" Walker
James S. Walker, 92, died May 25, 2020.
Graveside Funeral Services will be held 2:00PM Thursday May 28, 2020 at Eastlawn Gardens of Memory.
A native of Forsyth County, Jim was the son of the late Agnes Cain Barrow Walker and Robert William Walker, Sr. In addition to his parents, he also was preceded in death by his sister, Margaret W. Stephens; brothers, Robert William Walker, Jr., and J.B. Walker; and two half-brothers, and three half-sisters.
He served his country with the United States Army during the Korean War. He worked at P.H. Hanes Knitting Company for 26 years, and later retired, in 1991, from Carolina Steel in Greensboro.
He was a longtime member of First Baptist Church of Kernersville where he was a children's Sunday School Teacher for many years. He was one of the youngest ever to be elected and serve as Deacon of the church. Jim was a volunteer for Crisis Control Ministry where he worked in the food room and he also volunteered with the Shepherd's Center of Kernersville as a companion sitter.
Survivors include his loving wife of 61 years, Shirley Caudill Walker of the home; son, Samuel F. Walker and Amanda of Clemmons; granddaughter, Emma Katherine Walker; grandson, Liam Samuel Walker; and numerous extended family and friends.
Memorial contributions may be made to First Baptist Church of Kernersville, or Senior Services of Forsyth County.
Friends and family may sign, and view the guestbook at www.Pierce-JeffersonFuneralService.com