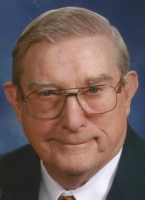 Fred T. Plybon, Jr.

Fred T. Plybon, Jr., of Colfax, North Carolina, passed away on June 4, 2020. He was 89 years old. Fred was born on December 23, 1930 in Bassett, Virginia, as a child moving to Salem, Virginia, and graduating from Andrew Lewis High School in 1949. Fred served honorably in the United States Air Force from 1949 to 1954. He and his wife, Beverly (Reiber), were married in 1956. After graduation from the University of Maryland in 1958 with a degree in Accounting, Fred joined the General Accounting Office (GAO) of the US Government in Washington, DC, and became a Certified Public Accountant in 1959. Fred was an extremely proficient accountant, and for many years taught accounting at the University of Maryland and a CPA exam prep course at GAO.
Fred enjoyed a very successful career in the Federal Government, becoming a senior administrator with the Department of Agriculture in 1972. In 1976, he was selected to attend the Federal Executive Institute, a center of advanced study for senior government leaders. At his retirement from federal service, Fred was the director of a 1,000-person Department of Agriculture office in Kansas City, Missouri that was responsible each year for disbursing millions of dollars of crop subsidy payments to farmers throughout the country. Following his retirement, he returned with Beverly to Roanoke, Virginia, where they lived for 20 years before relocating to Kernersville, North Carolina in 2007. His interests included fishing, boating, and watching the Washington Redskins and Atlanta Braves. At the time of his passing, Fred was a resident of River Landing at Sandy Ridge retirement community in Colfax, NC, and his family is extremely grateful to the capable staff at River Landing for their tender, professional care of Fred, particularly during his final days.
Fred was predeceased by his daughter, Barbara Ann, who passed away in 1976. He is survived by his wife of 63 years, Beverly; his son, James and daughter-in-law Claudia; his son, William and daughter-in-law Suzanne; his grandchildren, Kristen, Kevin, Scott, Robert and Anna; and his sister, Lillie (Hayes). He loved his family very much, and they returned that love to him.
Family and friends celebrated Fred's life on June 7, 2020 in an on-line ceremony officiated by the Rev. Robbin Mundy, River Landing Healthcare Chaplin. He will be laid to rest in Parklawn Memorial Park in Rockville, Maryland followed by a private ceremony. In lieu of flowers, donations may be made in Fred's honor to the Salvation Army of Greater Winston-Salem.

Friends and family may view and sign the guestbook at www.Pierce-jeffersonFuneralService.com