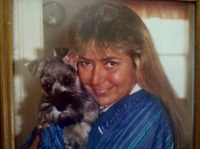 Connie Sue Wilt
Connie Sue Wilt, 66, passed away June 12, 2020.
She was inurned at Mt. Gur Cemetery Columbarium as she was surrounded by her family and friends.
A native of Indian Lake, Ohio, Connie was the daughter of the late Charlene Guess and James Wilt. In addition to her parents, she also was preceded in death by her brother, Jimmy Wilt; and her companion, Wacon Cottingham, III.
Survivors include her daughter, Leslie Dunson and Anne Martin of Cape Coral, Florida; aunt, Linda Peck of Ohio.
In lieu of flowers, memorial contributions are asked to be made to the Davidson County, North Carolina Humane Society.