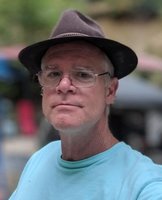 Richard Dean Spoon
Richard Dean Spoon, 60, passed away peacefully November 3, 2020.
Funeral services will be private for the family as per his wishes.
Richard was the son of the late Virginia Elizabeth Bodsford and Jack Wingate Spoon. He was employed as a Field Service Tech with Benco Dental.
Survivors include his daughter, Brittany Tedder and Logan of Walkertown; granddaughter, Kinsley; sister, Sandra Spoon and George of Atlanta, Georgia; brothers, Mark Spoon and Lisa of Walkertown, and Jack Spoon, Jr. and Wanda of Spartanburg, South Carolina; and numerous nieces, nephews, extended family and friends.
Friends and family may sign, and view the guestbook at www.Pierce-JeffersonFuneralService.com
Memorial contributions may be made to North Carolina Beekeepers Association, P.O. Box 99, Hurdle Mills, NC 27541, or the Beagle Freedom Project, 4804 Laurel Canyon Blvd., #534, Valley Village, CA 91607