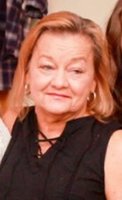 Sherrie Lynn Bottoms
Sherrie Harp Bottoms of Greensboro, NC, passed away peacefully on Tuesday November 3, 2020 at the age of 60.
Sherrie was born to the late Shelby Jean Harp and the living Robert Walter Harp, Jr, of Pinnacle. She was preceded in death by her daughter, Brandy Olivey; survived by her daughters, Ciji Marshall and Larry of Greensboro, Carly Bottoms and Felix of Walnut Cove, Demi McGee and Tyler of Stokesdale, and Sierra Harp of Greensboro; grandchildren, Marcus, Nolan, Tucker, and Emersyn. She is also survived by her brothers, Jimmy Harp and Tammy of Pinnacle, Kenny Harp and Misty of Pfafftown; sister, Nikki Brown of Pinnacle; and a host of nieces, nephews, extended family and friends. Sherrie was a caregiver to many; she was the glue that held her family together.
"There walks a lady we all know
who shines white light and wants to show
how everything still turns to gold
And she is buying a stairway to Heaven"
Family asks that if you wish to donate, to please donate to the Juvenile Diabetes Research Foundation in her name.
Friends and family may sign and view the guestbook at www.Pierce-JeffersonFuneralService.com