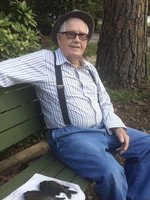 Robert Lewis
Arra "Robert" Lewis, 93, died November 10, 2020, from the effects of COVID-19 at Green Valley Medical Center, Greensboro, NC. Robert was born in New Site, Prentiss County, Mississippi on October 10, 1927 to David Turner Lewis and Mary Francis Lewis. Upon graduation from New Site High School, Robert married Ruby Louise Beasley, his "Little General", to whom he remained a loving and faithful husband for over 64 years. Robert began working for Blue Bell-VF Corporation, and was a supervisor for their maintenance department for more than 50 years.
Robert was an active member of Summerville First Baptist Church along with Louise up until her death. Some of Robert's hobbies, other than working, included raising a garden, or "crop growing" as he liked to call it; fishing and treasure hunting at auctions most weekends or just tinkering in his shop with all of his treasures he collected during his auction shopping days.
Robert is survived by his three children; Randy Lewis (Dotty) of Fayetteville, Teresa Humphries of Greensboro, and Richard Lewis (Millie) of Texarkana, Texas; grandchildren Natalie Lewis Brozy (Kirk), Allen Lewis, Sarah Lewis Turpin (April), Abby Lewis, Gracey Lewis, Meagan Lewis Hensley (Jason), Aaron Lewis (Kayla) and Grant Lewis; and 9 great grandchildren. He is preceded in death by his parents, a daughter Shirley Joan, his wife and all of his 10 siblings.
Robert has been cared for by many kind and dedicated caregivers for the past several years. The family is especially grateful to Janet Harville, Azucena (Susie) Hernandez and his longtime friend and neighbor Nancy Vaughn. The family will forever be grateful for the love and compassion these caregivers showed him.
Robert will be greatly missed by his family, who will remember his sense of humor, his love and gruff personality and his dedicated work ethic. For his grandchildren their "PawPaw" has left a legacy of commitment to family and faith in His Lord and Savior, Jesus Christ.
There will be a graveside service honoring Robert at 2:00pm Saturday, November 21 at Summerfield First Baptist Church with Sr. Associate Pastor Derrick Moody officiating.
The family requests that donations in lieu of flowers be made to Summerfield First Baptist Church, 2300 Scalesville Road, Summerfield, NC 27358 in honor of Arra Robert Lewis.