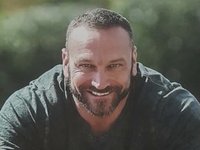 Chris Hamilton
Chris Hamilton, 41, passed away suddenly and unexpectedly on November 11, 2020. Chris was a dedicated, loving father, husband, and friend.
To celebrate his life, there will be a graveside funeral service held on Saturday, November 21, 2020 at 2:00PM at the Church of Jesus Christ of Latter-day Saints' church cemetery in Colfax.
A native of Guilford County, Chris was the son of the late Janice Mae Stuckey and Joseph Ewing Hamilton, Sr. In addition to his parents, he also was preceded in death by his sister, Alicia Beth Hamilton.
Chris is survived by his wife, Lori O'Brien Hamilton of the home; children, Nicholas (17), Brayden (15), Magnolia (13), and Lacey (8); sisters, Leslie Hamilton of Stokesdale, Melissa Grimm and Mike of Bentonville, Arkansas, and Kelli McElvany and Dave of Las Vegas, Nevada; brother, Joe Hamilton, Jr. and Stephanie of Stokesdale; mother and father in-laws, Nancy and Michael O'Brien of Mishawaka, Indiana; and a host of nieces, nephews, extended family and friends.
Chris's first love was his wife Lori and his four wonderful children, Nicholas, Brayden, Maggie and Lacey. Chris had a gentle spirit and a passion for cars, his Dent Shark business, and doughnuts. Although quiet at times, he was known for his smile, one of a kind humor, his thoughtfulness, and going out of his way to share kind words with others. He was both a body builder and a musician, but spending time with his kids gave him the greatest joy. Chris loved Christmas and decorated early for it every year so we know he will be with us in spirit this holiday season. He had a strong belief in God and was an active member of his church. There is an outpouring of love and support from the community, as he has touched so many lives. He will be missed by all, but his memory will live forever.
The family will have a walk-through visit with friends on Friday November 20, 2020 from 1-3PM and from 4-6PM at the Pierce-Jefferson Lambeth Chapel, 300 W. Wendover Avenue in Greensboro.
In lieu of flowers, there is a college fund set up for Chris and Lori's 4 children. Mail to NC 529 Plan, Account: Lori Hamilton, PO Box 40877 Raleigh, NC 27629-0877
Friends and family may sign, and view the guestbook at www.PierceJeffersonFuneralService.com