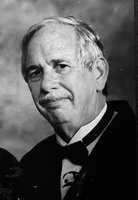 Andrew L. "Andy" Bahl
Andrew "Andy" Loras Bahl was born in Dubuque Iowa on August 7th 1942 to George and Anne Bahl. Following graduation from high school, Andy enlisted in the US Air Force and spent three years serving his country. He was honorably discharged and moved to Hunstville Alabama where he began his career with IBM. While in Alabama, he married and started a family. In 1977, Andy was transferred to Raleigh NC. Andy stayed with IBM until 1996 when he retired. In 1990, Andy married the love of his life, Marie Campbell. They shared many adventures, built their dream home on the coast and eventually settled in Greensboro, NC to live at Abbottswood. Andy was passionate about seeing the world and his travels took him to Australia, New Zealand, Germany, France, England, Italy and almost every state in the US.
Andy never met a stranger and considered the employees at Abbottswood to be his buddies. He enjoyed his poker group, riding his electric tricycle up Elm Street and spending time with his children and grandchildren.
Andy was preceded in death by his parents, brother Anthony, sisters Peggy and Cecila. He is survived by his wife Marie, sisters Ruth, Mary Ellen, Ginger, Kathy, daughters Debbie (Carl) Gessner, Judy (Greg) Nikolich, and Andrew (Keri Lehtola), Jr., stepdaughters Jean (Dylan Okimoto) Bragassa, Leigh (Mark McGuirk) Bragassa, grand children Maggie, Thomas, Luka, Gregory, Hanna and Talia.
The family wishes to express their enormous gratitude to everyone at Authora Care Greensboro and Living Well at Home/ Abbottswood for the wonderful care and friendship that was provided to Andy. Special gratitude for Heather, Mickey, Victoria and Mirzana.
In memory of Andy, "Live it up!"
A private interment will be held at Forest Lawn Cemetery. A memorial mass will be held March 19, 2021 at 11 am at St. Pius X Catholic Church, 2210 N. Elm St., Greensboro, NC, 27408.