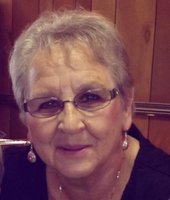 "Sue" McGuire
Glenda Sue Greene McGuire, 76, went home to be with the Lord April 25, 2021.
A native of Avery County, Sue was the daughter of the late Elmer Harvey Greene and Nellie Dare Mann Greene. She is married to her soulmate, Patterson "Pat" McGuire who survives. In addition to her parents, she also was preceded in death by her daughter, Ramona Sue McGuire; sister, Helen Marie Greene; and niece, Josephine Horton.
Survivors include her beloved husband, Pat of the home; nieces, Cathy Potter and Dale of Maryville, Tennessee, Earlene Bowman of Kernersville, and Melinda Kay Reece and Michael of Willard, North Carolina; and a host of extended family and friends.
She was a graduate of Beech Mountain Grade School and Cranberry High School. She was retired from Chrysler Automotive after thirty years of service. She will be missed most by her beloved "Pat" after 60 years of marriage. "Well done thou good and faithful servant". Her memory will be treasured by all who knew her. A sweet, wonderful, caring "Mom" to all! She was the embodiment of true "southern hospitality".
A private family service will be held at a later date.
In lieu of flowers, memorial contributions may be made to Heaven Sent Home, P.O. Box 7054, Maryville, TN, 37802, or Penderosa Rescue & Sanctuary, P. O. Box 845, Burgaw, NC 28425