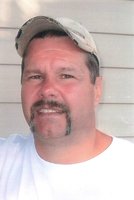 Chadwick Darren "Chad" Wise
Chadwick Darren "Chad" Wise, 54, of Kernersville, NC passed away Wednesday, June 30, 2021.
A native of Forsyth County, NC, Chad was the son of the late H. Brunell Wise, Jr. and Cynthia Malpass Pinch, who survives.
Survivors include his mother, Cynthia and her husband, Michael; brother Braxton Corey Wise and wife, Debbie Wise; one niece, Caitlin Wise; and twin nephews, Tyler Wise and Dylan Wise.
Funeral services celebrating his life will be held 2:00 p.m. Tuesday, July 6, 2021 at the Pierce-Jefferson Funeral Services Kernersville Chapel with Rev. Don Malpass officiating. Interment will follow at Eastlawn Gardens of Memory. The family will greet friends from 1:00 p.m. to 2:00 p.m. Tuesday prior to the service at the funeral home.
Friends and family may view and sign the guestbook at www.pierce-jeffersonfuneralservice.com