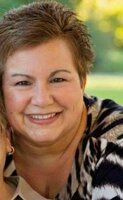 Michele Darpino Dombrowski
Michele Darpino Dombrowski, 59, of Kernersville, entered into eternal rest, on Tuesday, November 9, 2021, at Forsyth Medical Center.
Born, January 12, 1962, in Camden, New Jersey, she was the daughter of the late John Vincent Darpino Sr. and the late Eleanor Yerkov Darpino. After Michele graduated Archbishop Ryan High School and entered the workplace, she became involved in the insurance industry, and would spend the remainder of her career in insurance and a customer account manager.
Michele truly loved life and all that it had to offer. She enjoyed traveling, and had the opportunity to travel and adventure to many places, her favorite being Yellowstone National Park. Michele was always the life of the group; she was a practical jokester and loved busting chops. She enjoyed watching the discovery channel. Michele loved her family and friends with a deep passion, and was loyal to those she loved.
Left to cherish her memory are her loving wife of 22 years, Lorri Lepore of the home; sisters, Deborah Darpino, Kimberly Darpino (Carlos); brother, John Darpino Jr. (Effie); godson, William "Little Man" Sledge Jr.; nephew, Damion Shay; niece, Arlina Sledge (William, Sr.), Sophia; uncle, Leonard DeFinis Jr. (Cathy); cousins, Kristin Stahl (Jerry), Cara Stahl, and Colin Stahl.
In addition to her biological parents, Michele was preceded in death by her mother, Elizabeth Ann DeFinis Darpino; and grandparents, Leonard "Grandpop" DeFinis Sr., and Elizabeth "Grams" Ann DeFinis.
The family will hold a private celebration of Michele's life in the near future.
In lieu of flowers, memorials in Michele's memory may be directed to the American Heart Association.
Pierce-Jefferson Funeral Service- Kernersville Chapel is serving the family.