Has a Death Occurred? We Are Available 24/7
(336) 904-1053​
Live Chat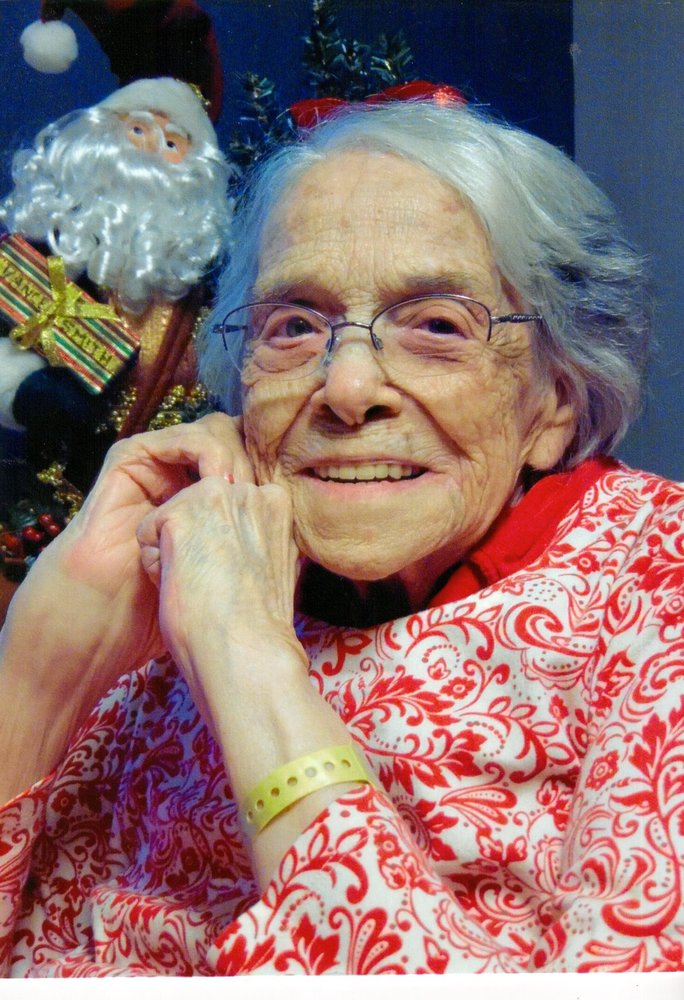 Share Your Memory of
Flora "Vance"


Obituary of Flora "Vance" Voss Smith
On to Glory: Mrs. FLORA "VANCE" VOSS SMITH recently departed to be with her Lord Jesus and all those preceding her in death, including her husband of 65 years: Robah Curtis (R.C.) Smith; parents: Austin C & Electa Vance Voss: siblings: Hubert Voss, Margaret Randall, Karl Voss, Boyd V. Idol; as well as two sons: Jonathan and Gregory Smith.
Flora "Vance" as family called her, was like a high-spirited filly racing through life searching for adventure and joy. She grew up down Vance Road and enjoyed a close knit extended family and neighborhood where she formed many life long bonds among her cousins and neighbor while swimming or fishing in the creeks, picking blackberries or played football on the front lawn or simply the daily hitching rides with one another to Kernersville for schooling or on to Winston-Salem for work after graduating. Even in her last year, those remembrances of family and her beloved Kernersville brought her the greatest joy.
Vance was very diverse and tried many things in life searching for an ever-evasive fulfillment. Her love of the classics and poetry was seen through-out her life as she wrote many poems to release her emotions and feelings. As a young mother, she pushed her children to learn the poem "A Snowy Evening" by Robert Frost along with their ABC's and numbers before entering school. As a "farmer's wife" for years, she not only canned and froze about anything that was eatable, but also grew tomatoes for Byrd's Food Store, and peddled butter in Kernersville for a season, then worked at Warner Rembrandt studio in W-S, wrote articles about teachers for the Kernersville News, and meanwhile continuing work on her own silent search for information about all legs of her family genealogy.
The house fire in 1970, that took the life of their sons, was a challenge no parents should have to face. Slowly Vance found solace as an assistant with the newly forming Head Start Program in Kernersville, but soon realized that wasn't her skill set. Returning to school to elevate her skills from being a "sitter" to that of an Registered Nurse became her new goal and direction that brought meaning once again. Often on the Dean's list, Vance proudly graduated from GTCC and passed her boards in the summer of 1974 right before her 50th birthday. At first, she worked on the Pediatric Ward at Baptist Hospital but soon found her niche in the psychic ward where she worked full-time and part-time for the next 10 years, using her resources to travel to Europe several times as she continued researching her Vance family roots.
In 1981, The Vance Family of Piedmont North Carolina was published, but Vance was not finished yet. In her research she'd met other Vances from across the US and abroad. She and three others founded the non-profit "Vance Family Association" with a subscribing membership of nearly 200 from around the world. She was president in the early years, and an active member going to their biannual meetings across the US, to enjoy fellowship, meet new family members and elect new officers to continue the massive research that is still on-going today. Online see: vancefamilyassociation.org.
Flora "Vance" finally felt the success she had sought for so long. Her last years were filled with an inner peace and joy that showed the contentment in her heart of that "Amazing Grace" she'd sung about since childhood. Dec. 27th, 2018, she entered the pearly gates and watched as her heirs came together in unison to celebrate her life on Dec. 31st at Pierce Jefferson Funeral Home in Kernersville, NC. Rev. Michael Spencer gave an insightful, loving eulogy about his grandmother's life followed by great-granddaughters singing her beloved "Amazing Grace" acapella with Kelly Senkyr leading them, just as "Grandma" always preferred.
Those present included her devoted youngest brother Rex, and his wife Mildred Voss; her grandchildren, most of her great-grandchildren as well as her son Byron and wife Elaine Smith; her daughter Ann and husband Carl Wayne Spencer also attended. Pallbearers included her five great grandsons and eight of her great grand-daughters carried white roses, leading the processional from the chapel in her honor. Interment was at Mt. Gur Cemetery in Kernersville, NC.
Visitation
10:00 am - 11:00 am
Monday, December 31, 2018
Pierce-Jefferson Funeral & Cremation Service
213 West Mountain Street
Kernersville, North Carolina, United States
(336) 904-1053

Get Directions
Funeral Services
11:00 am - 11:30 am
Monday, December 31, 2018
Pierce-Jefferson Funeral & Cremation Service
213 West Mountain Street
Kernersville, North Carolina, United States
(336) 904-1053

Get Directions