Has a Death Occurred? We Are Available 24/7
(336) 904-1053​
Live Chat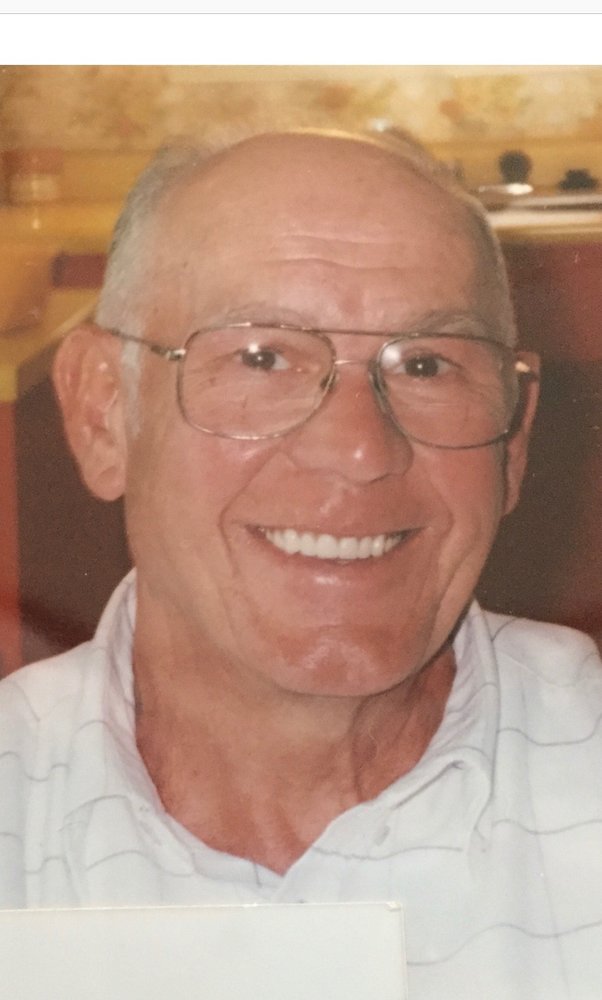 Obituary of Edward J. Davis, Sr.
Edward J. Davis, Sr., 93, of Kernersville, NC, formerly of Monaca, PA, passed away peacefully at home surrounded by his family on April 6, 2019.
A Funeral Mass will be 2:00PM Tuesday, April 9, 2019 at Holy Cross Catholic Church in Kernersville, NC.
Born Jan. 22, 1926 in Youngstown, OH, he was the son of the late James and Marie (Meyers) Davis.
Ed was a graduate of Monaca High School Class of 1943, and earned his Associate Degree from Robert Morris College. He was employed by J&L/LTV Steel in the Tin Mill Aliquippa Works for 33 years. He was a veteran of WWII, fighting through France, Belgium and Germany.
As an athlete in his younger days, he was active in local softball and bowling leagues. He was invited to try-out for the Pittsburgh Pirates Farm Team, but declined in order to begin a life with his wife. Ed also loved the game of golf and played well into his 80's. He especially enjoyed his son Brad's annual golf outing where he won a car in 1999 after making his first hole-in-one.
He and his wife enjoyed wintering in Myrtle Beach, once he retired. They also played cards with friends in their couples' card club, the BVD's. Ed was a long time member of The Monaca Sportsman Club and American Legion.
Ed was a member of St. John's Catholic Church, Monaca, and currently of Holy Cross Catholic Church in Kernersville.
A quiet man, his family was his joy. He is survived by his loving wife of 69 years Betty (Reigel) Davis; 3 sons and 2 daughters, Mickey (Linda) Davis, Palm Harbor, FL, Renee (Chris) Mangin, Fort Myers, FL, Brad (Kelli) Davis, Arlington, TX, Scott (Denys) Davis, Winston-Salem, NC, and Val (Graham) Westphal, Lancaster, PA. 14 grandchildren, Joshua (Younie) Davis, Paris, Lindsay (Farhad) Davis, London, Caitlin (Tom) Davis, Tampa, FL, Carly Davis, Palm Harbor, FL; Christopher (Susan) Mangin, Richmond, VA, Tracy (Ryan) Smith, Newnan, GA; Erin (Schuyler) Jones, Austin, TX, Michael (Karissa) Davis, Dallas, TX, Cara Davis, Denton, TX; Katherine (Dustin) Bays, Roanoke, VA, Christopher Davis, Jackson Schuler, Marshall Davis, Makenzie Davis all of Kernersville, NC; Carolyn Westphal, New York City, Eva Westphal, Hoboken, NJ, and Sam Westphal, Lancaster, PA. 6 great-grandchildren, Evan and Rose Mangin, Lanie and Aubrey Smith, Catherine Jones, Annabelle Bays, and Finnegin Davis.
He was preceded in death by a sister-in-law and husband, Joan (Reigel) and George Samolis and a brother-in-law and wife, Bill and Wava Reigel. He is also survived by several nieces and nephews.
The family is especially grateful to our brother and sister-in-law, Scott and Denys, for their care of our Dad these past 10 years in NC.
Per Ed's request, entombment services will be private.
Family and friends may sign and view the guestbook at www.Pierce-JeffersonFuneralService.com